Anyone else the teensiest bit excited that fall is here?
My inspiration for this project came from this pumpkin man on countryhome.com that I pinned last year. Given that we had just moved and I was exhausted from pregnancy I felt lucky just to get the kids costumes in time to trick or treat.  So as soon as I saw the pumpkins for sale at the local grocery store last week I knew this had to be my first project.
We secured him with a sturdy stick down the middle from 'head to toe'. His 'scarf' was a score from the thrift store.  The Fedora belongs to Jack  (thanks buddy). His arms just some branches from the backyard. $20 for the whole project.
We started out with him on the porch.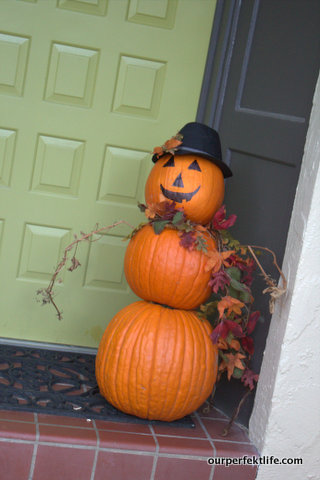 But then I thought he might appreciate the view a little better in the front garden
I think I love him
But then Grace informed me that in fact 'he' is a 'she' and her name is Crystal.
(???)
Oh and see that wreath on the door?
It's actually NOT one of my pins but I really wanted to add more to my plate and do another project because I'm completely bored. Ha.
So I bought one of those straw wreaths at Joann's and the two feathers and then headed to the thrift store for something that 'looked cozy'.  I scored with a Pier One blanket that someone had donated.  $4.99 with 50% off. SCORE I tell ya.
I just cut a strip of the blanket, wrapped it around the wreath and secured with pins.  Then I tucked the feathers in.
 Now back to this handsome fella, lovely lady.
Happy Fall!  See you tomorrow.
Linked up on